There's just something really special about the feeling you get from giving back a little isn't there? I was raised to appreciate and value the practice of volunteering, it is something that has continued to grow within me throughout my adult life. It's only been recently that I've discovered how to implement this desire to give back more, into my business.
Long story short; I just completed a guided program called Discover Your Sacred Gifts. It was developed by a friend of mine in 2013 and she has continued to offer workshops and online trainings all of these years. As you can imagine, it is centred in the idea that we all have a number of 'Sacred Gifts' within us and it has been developed to help you and I discover them and put them into action!
THAT process has led me here; living more on purpose and completely thrilled about this plan that landed on my heart.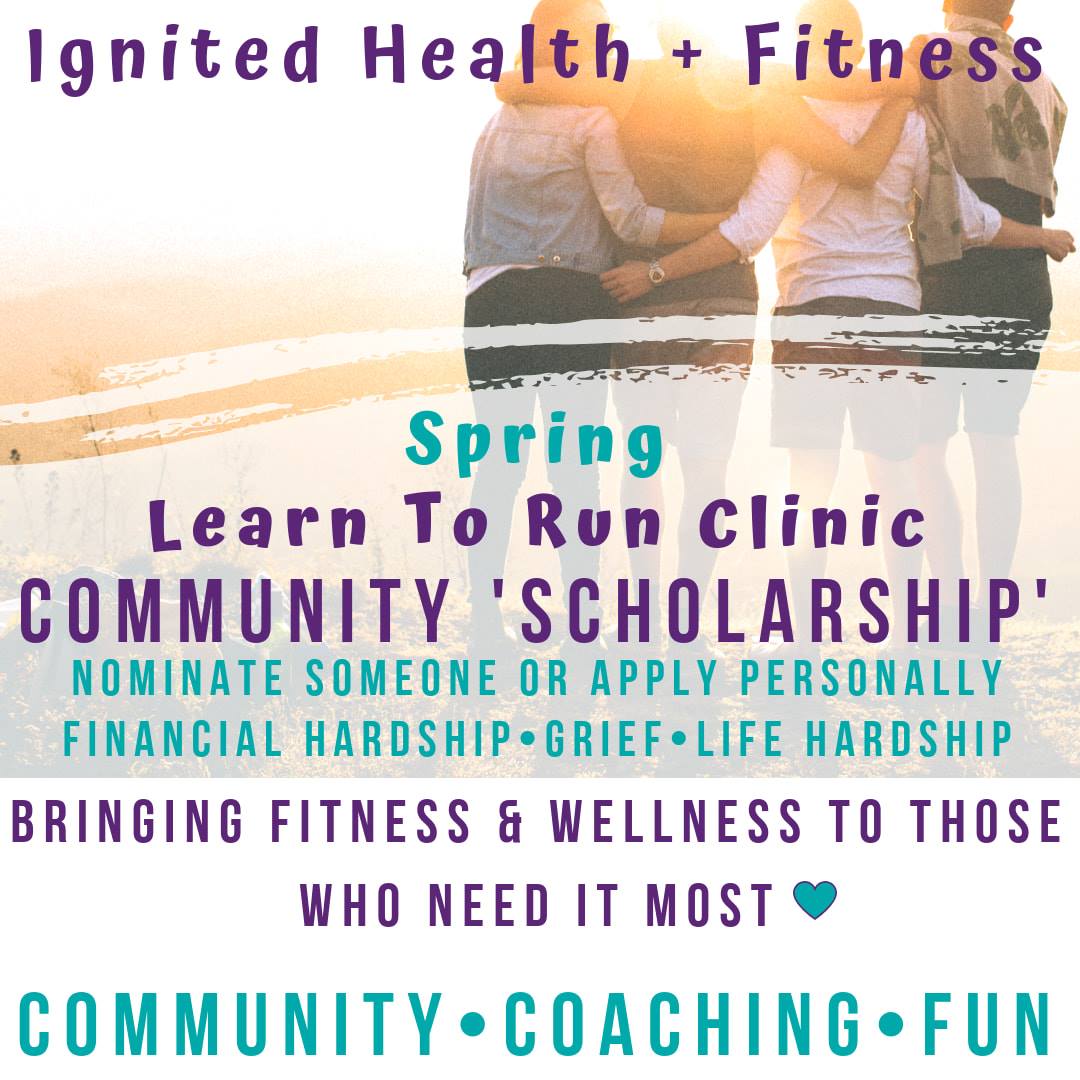 Do you know someone who needs the gift of fitness?
Without further adieu, here is WHAT I'm talkin' 'bout!!!
The Community Scholarship is a gifted 5K Intro to Running Clinic to someone who needs it. Whether they've experienced a loss, financial hardships or just been handed the short end of the stick…
The recipient is someone who has expressed a desire to improve their life through fitness + wellness but doesn't have the means to invest in themselves or just won't because of their life's circumstances.
Maybe you're asking yourself "HOW is a running clinic going to help my friend who's struggling right now?". I was hoping you might ask that - even if it was just in your head. It's been proven over and over again that regular exercise is beneficial for mental/emotional/brain health. At some of the most difficult times of my life, I have turned to exercise to pull me through and it's worked every.single.time.
You can nominate someone locally or virtually, even if you're not participating yourself! I'm reallyyyyyyy counting on the power of social media to help me get this opportunity out to the masses!
Do you know someone that fits this description? Is that someone you? Personal applications are very much encouraged as well.
Applications will be accepted NOW until April 15
➡️ http://bit.ly/IgnitedHealthFitOppApplication ⬅️
Scholarship recipient will be notified privately by April 19
All nominations and applications will be strictly confidential
PLEASE share this out…you NEVERRRRR know who in your network might be looking for exactly this!
Heya I'm Robyn!
I'm Certified Personal Trainer, Runner, Skier, Cyclist, Lifter of Heavy Things, Foodie, Outdoor & Mountain Lover and Simplifier of Nutrition and Wellness!!
I've been told that I have a way of making nutrition and fitness feel simple and not scary at all. I'm here to help you develop your healthy (er) and fit (er) lifestyle through simplified nutrition and functional fitness!
My Goal is to teach you how to improve your overall health and build a better life!
Thanks for being here - let's get this party started!!